About Asbestoswise Inc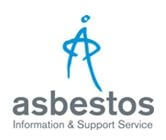 Room:  2.8
Tenant Phone: 03 9654 9555
Email: info@aiss.org.au
Website: http://www.asbestoswise.com.au
What we do
Information, links to asbestos related disease support group.
Central point for information about asbestos.
Asbestos Wise provides information and support to those who:
Have been exposed to asbestos and have been diagnosed with an asbestos related disease.
Are at risk of exposure to asbestos.
Advocate awareness within the community about the risks and dangers of asbestos.
Preferred Access                            Phone  
Opening Hours                                Monday to Friday (10am to 4pm)
Membership Cost                            No
Is there a charge for services?    No
Accepts volunteers?                      Yes
Accepts donations?                        Yes (donations over $2 are tax deductible)
Facebook link:                                   www.facebook.com/Asbestoswise/