About Community Music Victoria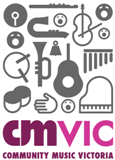 About us
Room: G8
Phone: 03 96621162
Email: info@cmvic.org.au
Website: www.cmvic.org.au
What we do: Community Music Victoria supports, encourages and promotes participation in music making, regardless of musical ability and experience.
We offer leadership skills training, mentorship and support
In collaboration with our partners, CMVic organises a wide range of events for people of all musical abilities
CMVic puts together a number of regular publications and makes available various musical resources (scores and mp3 recordings) for all types of singing or music groups
Network: CMVic helps musicians and music groups get to know each and share their ideas, skills, and music. We send out a monthly e-news bulletin called Shout! packed with community music events, news and updates.
Preferred Access: Drop in, call us or email! Please note, if you are planning to drop in, please call ahead to ensure we will be open as the team may be working from home.
Opening Hours: Monday and Thursday (times vary)
Membership Cost: $48 per year ($24 concession) or $130 for 3 years ($65 concession)
Is there a charge for services? Some charges may apply
Accepts volunteers? Yes
Accepts donations? CMVic welcomes donations! (donations over $2 are tax deductible)