About Disability Advocacy Victoria (DAV)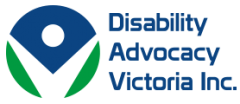 Disability Advocacy Victoria Inc. (DAV) – formerly known as Victorian Disability Advocacy Network (VDAN) – was established in 2003. DAV is the peak body for independent disability advocates in Victoria.
We strive to break down the walls for people with disability by working with key stakeholders to achieve positive, systemic change in the disability sector. With one united voice, we have a much greater influence on policy makers about issues that affect people with disability.
We aim to:
strengthen the disability advocacy movement in Victoria
promote rights-based advocacy
raise awareness about the needs and rights of people with disability